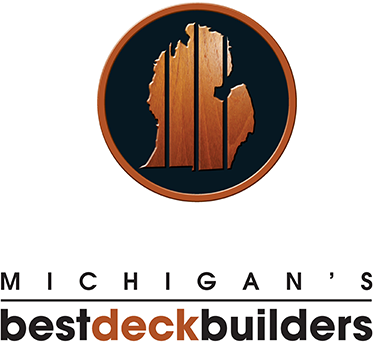 Trex deck with brick columns
This is as good as it gets when it comes to Michigan decking, railing, borders, and brick columns. Using these key features on our decks separates us from our competition. We now have a niche in this industry where others are left behind.
Our new design technology is the future of beautiful homes and composite decking. The combination using a stone column and custom colored accent border gives the project such a beautiful finish that it leaves clients in awe. Other Michigan deck builders are left wondering how this is done at an affordable rate. Well it's pretty simple. We do not sub contract any work. Our experienced carpenters have been working together for over ten years. Everyone is on the same page when it comes to high end construction. We have developed a strategy of saving time for us and money for you. It's a win win situation for everyone. All over Michigan deck builders are coming to us for new strategies and techniques. We are in the process of making video tutorials and online classes on how to make it all work. The old way of thinking is that only rich people could afford brick columns on a deck. Our designers make this within reason for anyone. Brick columns work well with walkout basements. No one likes the look of treated square footings in the ground. The columns add the ultimate finish especially if there is a pool or patio coming out from the walkout basement. Our designers and carpenters are the best when it comes to timing, friendliness, and work ethics. We do what we do because we love to give people what they want and make them smile. Call us today to find out how you can achieve this look for your home!