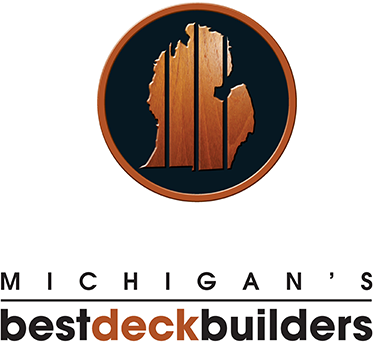 We Build the Best Steel Framed Decks in Michigan
At Michigan's Best Deck Builders we are pleased to offer steel framed decks. The benefits of steel framed decks are that they are more durable and support more weight and activity versus traditional wooden decks. Steel framed decks also offer longer life and less maintenance over the life of the deck. Steel framed decks are strong, durable, light weight, economical, and simple to install. Steel framed floor decks are ideal for multi-story buildings, mezzanines, bridge walkways, porches, in-fills, platforms, parking garages, and storage facilities.
Steel framed deck can be designed with the following features:
• Flat roof design
• Pitched rood design
• Arched roof design
• Ribbed profile
• Embossments designed to interlock with concrete slabs
Steel Framed Decks are Attractive, Modern, and Very Durable
At Michigan's Best Deck Builders we specialize in all forms of deck construction. We know that a well-built and designed deck can be the perfect addition to any home or commercial property. Decks offer a place for people to gather and to enjoy the outdoors while still provide protection overhead from the elements.
At Michigan's Best Deck Builders we work with our property owners to design and construct the ideal decks that suit all wants and needs. We understand that every project has their own limitations and objectives to fulfill and we work tirelessly to ensure that the deck built meets all perquisites discussed during the design.
Our experts and professionals at Michigan's Best Deck Builders have been in business since 1997. We are based in Oakland County but work throughout all of Michigan. We are committed to designing and building quality and durable decks, designs, workmanship and craftsmanship.
Contact us for more information
Contact us today to learn more about what we can do for you and your property. We are ready and willing to offer quotes and estimates, as well as discuss design details and concepts. We want to work with you on your property and are ready to start when you are. We know that you will be satisfied with our quality and durable steel framed decks. Remember we construct the best in be business, offering the best prices at the best quality in all of Michigan. Contact us today.