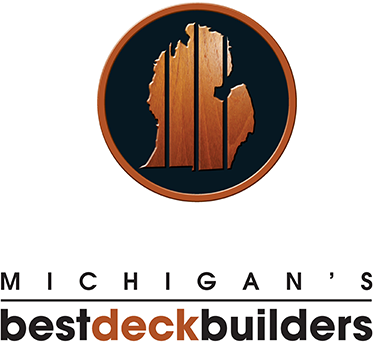 Spring Maintenance On Your Wood Deck
Wood Decks After Snow Thaws
Spring has finally sprung! Visions of warm summer days and barbecues are right around the corner, but before that can begin it's time to prepare your deck for the upcoming season.  Here at Michigan's Best Deck Builders we want you to get your season started off right with some maintenance tips for preparing your wood deck for the warmer weather that's approaching.
Late Winter/Early Spring
Even though it might be tempting to put off early spring maintenance, this is the best time of year for it. At Michigan's Best Deck Builders we offer services to help with deck maintenance for your new or old deck during this season. The cool temperatures are ideal for cleaning your deck because the temperatures put less strain on the wood. Even before the snow has finally melted, you should be sweeping the snow and ice off your deck to prevent damage. The melting and refreezing of snow and ice during this time of year can cause hardwood decks to absorb too much moisture which will lead to swelling. This early spring swelling can potentially lead to boards buckling or even worse to pull out fasteners. You can prevent this by regularly sweeping your deck in between any early spring snowfalls that occur.
Once the weather seems like it's is going to stay above freezing and the snow falls have stopped, you can begin to bring your deck out of hibernation. First remove any debris that may have lodged their way in between your deck boards. For this task you can use anything from an painters tool to a putty knife. If you have bad knees or a bad back you can also buy a flat clean up shovel, or a deck groove and crevice cleaner tool, which will help reduce stress on those areas of the body. Once you have cleaned in between the boards a general sweep of your deck will be next. You want to remove any dirt or debris that have accumulated over the winter, paying special attention to any corners. At this time you should look to see if any nails need to be hammered back in place or any screws need to be tightened. Make sure they they set below the woods surface so that any barefeet or sanding equipment won't get hurt or damaged.
Once you have your deck cleared it is time to wash it. This task can be daunting for some, and here at Michigan's Best Deck Builders we can help. We can assist you with deck maintenance or we can point you in the right direction. If you decide to go it on your own you  can travel to your local hardware store for a commercial grade cleaner. Make sure that the cleaner is specifically formulated for wood decks and contains oxalic acid as the active ingredient. We recommend staying away from cleaners that have caustic lye or acid, or sodium hypochlorite. Sodium hypochlorite can discolor "raw" wood decks (decks that haven't been treated) and is essentially bleach, where as oxalic acid can give a "brightening" effect on woods such as cedar or treated pine.
At this time you should start to assess your deck. Is there significant damage, splinters, warping, or is the yearly maintenance just wearing on you? If you want an update on your deck or need a little more "low maintenance" option we provide custom deck designs made of composite decking material. Composite decks eliminate the need for stain, re-hammering nails, or worrying about repair. Maintaining your composite deck is as easy as grabbing a broom or hose and brushing or spraying away the debris. Click here for more information.
Mid to Late Spring: Sealing/staining Your Deck
Once you have allowed time for you deck to dry, the next step will be sealing or staining it. If you wish to keep the natural look of your deck, we recommend using a clear sealant or semi transparent stain. For a stronger protection and to add some color we recommend you use a toner or a solid stain that will not only protect your deck, but also add some color to it as well.
Sealing your deck will help with preserving the quality of the wood and ensure longevity for years to come. When staining or sealing your deck, make sure to apply in thin layers and allow those layers to fully dry (anywhere from 24-48 hours) before applying another coat. You can apply a single coat or several, depending on the look you want your deck to have. Once this is done you are now on your way to enjoying spring and summer outdoors.
For any deck assistance, or for a free quote on a custom deck of your dreams click here and Michigan's Best Deck Builders will be happy to assist you.