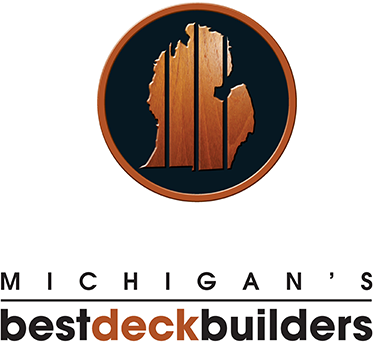 Is Your Wood Deck Ready for Michigan Winter?
Everyone hates to see the warm weather leave. Michigan winters can be very harsh. Proper maintenance will significantly increase the lifespan of your wood deck. Follow these easy steps that you can do now to prepare your deck to survive the winter.
1) Thoroughly clean your deck of all dirt and debris.
Clear off your deck of all furniture, rugs, and plants. Start of by sweeping the entire surface of your deck to remove debris, dirt, and leaves. This is also a good time to inspect your deck for mold growth. Next, wash your deck with mild soap and water. If stains are still present, then it may be necessary to use a pressure washer. Properly cleaning your deck now will decrease the chances of mold, mildew, algae or fungus from forming.
2) Inspect your deck for any imperfections that can worsen over the winter.
Carefully inspect your deck by looking for broken or warping railings, rotting pieces of wood, or loose nails. Problems on your deck will not magically go away during the winter. They will most likely worsen.
3) Prepare to seal your deck for the winter to minimize the risk of damage.
Seal your deck with water repellant to limit water infiltration during the winter. First, you will need to lightly sand the surface of your deck. Sanding your deck will allow the sealant to penetrate evenly. Next, vacuum your deck with a powerful shop vac. Once your surface is clean and dry, apply a water repellant with a large brush or with a pressure hose. This will help reduce or eliminate damage caused by standing snow or ice.
To make winter prep even easier, or even non existent, ask Michigan's Best Deck Builders about low maintenance composite decking today!